Asli Hip Hop Lyrics – Ranveer Singh | Gully Boy
Asli Hip Hop Lyrics from Gully Boy sung by Ranveer Singh. The music of this song is given by Spitfire while lyrics penned by Spitfire. D-Cypher, BeatRAW is beatboxers in this song.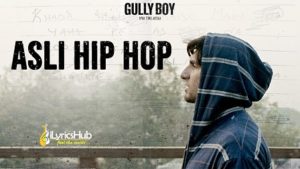 Asli Hip Hop Song Details:
Asli Hip Hop Lyrics
Thanda Kuch Nahi Sab Garam Hi Garam Hai
Angaar Hai Angar Hai, Angar Hai
2 By 4 2 Se 4 Hai Oho… Kya Baat Hai
Ab Karo Decide Ae Gully Boy Aa Gaya
Khada Hu Kaise Main Yaha Pe Ab Na Puchhna
Dard Shayari Mein Tujhko Chahiye Sabut Kya
Sikhar Ye Soch Par Juda Hu Main Zamin Se
Yaqeen Tumko Na Par Aage Aaya Main Yaqeen Se
Lakh Nafratein Hon Sath Maa Ka Payaar Hai
Hansi Hai Uski Jeet Meri Kaise Jaaun Haar Main
Kaat Lo Zuba Aasuo Se Gaaunga
Gaad Do Beej Hu Main Ped Ban Hi Jaunga
Dil Tha Tuta Tab Hip Hop Mere Sath Tha
Ujaale Milne Mein Mujhe
Haan Raat Ka Hi Hath Tha
Kalakar Main Kal Ko Aakar Du
Yahi Hai Mera Dharm Meri Doosri Koi Jaat Na
Maa Hai Rab Meri Gully Ye Meri Mashuka
Ladka Aida Main Jhukane Pe Bhi Na Jhuka
Sun Rahe Jo Mujhe Beshumaar Pyaar Unse
Banata Geet Main Par Main Khud Bana Hu Tumse
Gaur Kar Lo Meri Baaton Pe Tum Dhyan Do
Nainon Ko Main Namm Karu
Sukoon Main Deta Kaan Ko
Chilao Zor Se Uthao Apne Hath Tum
Asli Hip Hop Se Milaye Hindustan Ko
Hindustan Ko Haan Ji Hindustan Ko
Asli Hip Hop Se Milaye Hindustan Ko
Hindustan Ko Haan Ji Hindustan Ko
Asli Hip Hop Se Milayein Hindustan Ko Kya
Bahot Hard….
Ek Number!
Asli Hip Hop Music Video
Written by: Spitfire
Found Any Mistake in Lyrics?, Please Report In Contact Section with Correct Lyrics!
You may also like...