Aukaat Lyrics – Badla | Amitabh Bachchan
Aukaat Lyrics from "Badla" sung by "Amitabh Bachchan" and "Clinton Cerejo" while Lyrics of the New Hindi song is given by Siddhant Kaushal.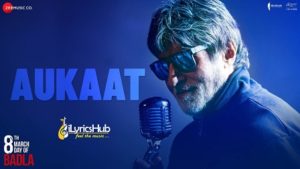 Aukaat Lyrics
Dardnank Dhak Ki
Badal De Tu Khurak Re
Majak Jo Udaega
Chamat De Fatak Se
Dar Nahi To Kis Kai
Jo Teri Teekhi Naak Ye
Maang Bas Khuda Se
Honsle Ki Ek Shapak Re
Cheetiyo Ki Nasal Pe
Dhayan De Zara
Jo Roke Na Uthate
Dana Cheeni Ka
Aukaat Ko Badal De
Badal De, Badal De
Din Hai Sath Wo Badal De
Tera Agla Pichla
Tu Badal Le Ke Badla
Tu Duje Nazariye Se Dekh
Wo Dikhenge Danav
Jo Dikh Rahe Nek
Bheje Ko Khol Samne To Dekh
Aise Kisi Ke Samne Bhi
Matha Na Tek
Dekh Tu Upar Se, Dekh Tu Right Se
Bhap Le Tu Khatra
Tu Har Ek Side Se
Sikke Ka Tisra Pahlu To Dekh
Musibat Ko Bol
Tu Khisak Le Side Pe
Fasal Ka Tod Akal Se De
Tu Chhod Na Kasar Nahi
Gaad Mat Bejjati
Ke Bheech Ugaegi
Gandi Fasal Hi Gatar Si
Jo Kale Ujale Main Palti
Fir Aage Na Jake Badalti
Raato Ne Tujhko Jo Badla
Tu Lele Ta Khud Ka Badla
Yun Daar Ke Baith Ke Na Hakagla
Aukaat Ko Badal De
Badal De, Badal De
Din Hai Sath Wo Badal De
(Badla Hai Khachak Se)
Tera Agla Pichla
(Tu Unchi Naak Ye)
Tu Badal Le Ke Badla
Badla….
Found Any Mistake in Lyrics?, Please Report In Contact Section with Correct Lyrics!