Beautiful Jatti Lyrics – Gippy Grewal
Beautiful Jatti Lyrics sung by Gippy Grewal from "Chandigarh Amritsar Chandigarh" Featuring Sargun Mehta. The Music of new Punjabi song is given by Jatinder Shah while Lyrics are penned by Maninder Kailey.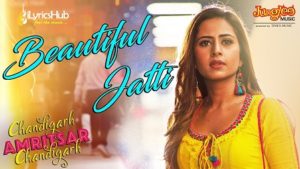 Beautiful Jatti Lyrics
Ho Chandigarh To Pari Hai Aayi
Chandigarh To
Chandigarh To Pari Hai Aayi
Lagdi Puri Butterfly
Khule Waal Te Jean Fasayi
Oye Beautiful Jati
Beautiful Jatti Aa Gayi Oye
Aunde He Sab te
Aunde He Sab te Chha Gayi Oye
Beautiful Jati Aa Gayi Oye
Oh Ankha Diamond Ne Te Rang
Pura Hai Gold Da
Utto Body Te Perfume Laga Ke Aayi
Oh Tainu Million Million
Like Milan Mutiyare Ne
Asli Fan Following
Fake Nahio Bnayi
Phone'a Vichon Net Muka Gayi Ae
Beautiful Jatti
Nakhro Ghumdi Vich Bazar
Aggo Puchna Mere Yaar
Ban Gaye Danger Jehe Asaar
Jehde Piche Piche
Jo Piche Piche Aunde Ne
Gabru Dar Dar Ke
Gabru Dar Dar Mud Jande Ne
Gabru Dar Dar Ke
Gabru Dar Dar Mud Jande Ne
Found Any Mistake in Lyrics?, Please Report In Contact Section with Correct Lyrics!