Boss Lyrics – Jass Manak | Game Changerz
Boss Lyrics – Jass Manak | Game Changerz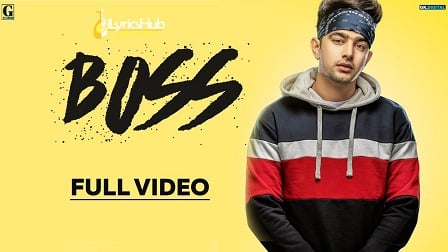 Song Details:
Song: Boss
Singer: Jass Manak
Music: Game Changerz
Lyrics: Jass Manak
Composer: Jass Manak
Label: Geet MP3
Release: 2018
Boss Lyrics
Game Changerz In The House Baby
Jass Manak...!
Aa Aaa Aaaa…!
Boss…!
Oh Boss De Ne Number
Range Diyan Caran
Jadon Jatt Nikle
Takdiyan Naaran…
Tere Town Gehda Ik Hi Bathera
Vairiyan Ni Sehniyan Ni
Haddan Utte Maran
Manakan Da Munda Samjhi Na Gunda
Naam Pichhe Singh Rim
Karde Ne Bling…
Ho Choti De Shokeen An
Danger Ne Scene An
Kadd Na Tu Akhaan Kole Magnum Rakhan
Gaddi Meri Kaali Vich AK-47
Yaar Chaar Paanj Khaas
Vairi Mere Lakhan…
Aa Aaa Aaaa….!
Game Changeran Di Beat Ae
Challdi Repeat E
Khadak De Sheeshe Nale
Kabbi Jaandi Seat E…
Oh Dekh Billo Jachda Vich Ni Hazaran
Impala Vich M4 Chidiyan Na Maaran
Ho Kehnde Dhaliwal Aa
Uthde Sawal Aa
Rakhi Na Queen Koyi
Dil Ch Na Khaar Aa…
Jigre Te Maan An
Soch Nu Salaam
Samundran Ton Dungi
Jehdi Ambran Ton Paar Aa…
Oh Chup Chaap Jatt Billo Puchhde Sawal E
Saana Jeha Zor Dekh Sheran Jehi Chaal Ae…
haa haaa…!
pura worldwide fame ae
Haan star'aan vich name ae
ho tere manak ne soniye ha
ha ghumati saari game ae
oh pura worldwide fame
hai star'aan vich name
Dekh manak ne soniye
ghumati puri game
jehde karde si doubt
ajj mere te proud
tere shehar mere gaane
dekhi tapp da crowd ae
haa haaa…!
Takni Tabahi Dekh Bhardi Gawahi
Akhaan Utte Shade Kaale Nagni Na Laal Aa
Autotune De Ni Kalakaar
Hikkan Ch Vi Jaan Ae
Anakhan Na Jeyonde
Kise Bande Da Na Ehsaan Ae…
Found Any Mistake in Lyrics?, Please Report In Contact Section with Correct Lyrics!