Designer Lyrics (Full Video) – Nimrat Khaira | Deep Jandu, Happy Raikoti |
Designer Lyrics (Full Video) – Nimrat Khaira | Deep Jandu, Happy Raikoti |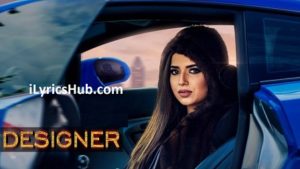 Song Details:
Song: Designer
Singer: Nimrat Khaira
Lyrics: Happy Raikoti
Music: Deep Jandu
Video Directed by: Baljit Singh Deo
Music Label: T-Series
Designer Lyrics
Habibi Yaa…
Burj Khalifa Jidde Nakhre Ne Naar De
Burj… Habibi Ya…
LA Ton Ponch Gayi Dubai
Main Hundi Naiyo Kisey Agge Shy..(x2)
Lambo Ta La Ke Cruze
Bann Di Front Di News
Mere Athre Ne Shonk
Chaahe Boli Jaan Lok
Bas Paise Udaundi Aa
Kudi Designer Paundi Aa
Designer Poundi Aa
Designer Poundi Aa
Sir Ton Leke Shoes Tak
Kudi Designer Paundi Aa
Designer Poundi Aa
Designer Poundi Aa
Sir Ton Leke Shoes Tak!
Burj Burj
Burj Khalifa Jidde Nakhre Ne Naar Naar
Burj Burj Burj
Burj Khalifa Jidde Nakh Nakh Nakh…
Burj Khalifa Jidde Nakhre Ne Naar De
Na Na Na Na…
Urban Town Me Munde Gede Piche Maarde
Na Na Na Na…
Makeup Kardi Na Bina Main Sephora De
Door Door Charche Ne Kajle Di Dhaar De
Gaddiyaan Black
Jedi Kardi Attack
Agg Dilaan Utte Laundi Aa
Kudi Designer Paundi Aa
Designer Paundi Aa
Designer Paundi Aa
Sir Ton Leke Shoes Takk..(x2)
Nakhre Mere De Munde Fan.. (Fan!)
Downtown Takde Hi Rehn (Rehn!)
Taan Hi Munde Main Karate Keyi Ban (Ban!)
Ho Lakhaan Vich Ik Mera Man (Mera Man!)
Downtown Me Saara Din Hi Piche Gede Launde Ne
Akh Meri De Patte Munde Saari Raat Na Sounde Ne
Raatan Nu Oh Taare Gin Gin Sad Song Hi Gaunde Ne
Gaunde Ne!
Kehar Guzarda Ae Thodi Utte Till Ji
La La La La La
Tak Tak Mundeya De Bounce Hunde Dil Ji
Bounce Bounce Bounce
Out Of Range Main Rach Rach Mundeya De
Karuga Afford Kedha Nakhre Da Dil Ji
Happy Raikoti Ho Ya Dil Utte Note
Gal Dil Di Gaundi Aa…
Kudi Designer Paundi Aa
Designer Pondi Aa
Designer Pondi Aa
Sir Ton Laike Shoes Tak..(x2)
LV, Prada, Dolce – Gabbana…(x3)
Found Any Mistake in Lyrics?, Please Report In Contact Section with Correct Lyrics!