Kaattu Payale Lyrics – Soorarai Pottru | Dhee
Kaattu Payale Lyrics from Soorarai Pottru is Latest Tamil Song sung by Dhee featuring Suriya, Aparna Balamurali and music of new song is given by GV Prakash Kumar while lyrics penned by Snekan and video is directed by Sudha Kongara.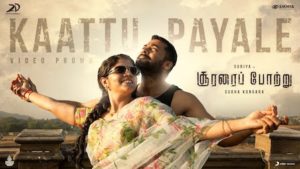 Kaattu Payale Song Details:
| | |
| --- | --- |
| Song: | Kaattu Payale |
| Movie: | Soorarai Pottru |
| Singer: | Dhee |
| Lyrics: | Snekan |
| Music: | GV Prakash Kumar |
| Starring: | Suriya, Aparna Balamurali |
| Label: | Sony Music India |
Kaattu Payale Lyrics
Lallahi Laaire Laaire
Lallahi Laaire Laaire…
Kaattu Payale Konji Podaa
Ennae Oru Kaa Nee
Murattu Muyala Thookki Poga
Vantha Paya Daa Nee
Karattuk Kaadaa Kedantha
Enna Thiruttu Muzhikaaraa
Thoratti Pottu Izhukuradaa Nee
Thiruttu Poona Pola
Enna Urutti Urutti Paarthu
Surattu Paambaa Aakkiputta Nee
En Mundhiyila Sorugi Vacha
Sillaraya Pola Nee
Iduppu Madippil Ennenamo
Senjiputtu Pora Nee
Paarangallaa Iruntha Enna
Panju Pola Aakkiputta
Enna Viththa Vechiruka Nee
Yaana Pasi Naan Unakku Yaana Pasi
Sola Pori Nee Enakku Sola Pori
Lallahi Laaire Laaire
Lallahi Laaire Laaire…
Paasathaala Enna Neeyum Pathara Vaikkura
Paththikkittu Eriyum Enna Paathu Nikkura
Jigaruthandaa Paarvayaala Kulira Vaikkura
Thooram Ninnae En Manasa Maeya Vaikkura
Naan Velanji Nikkum Pombala
Vekkam Kettu Nikkuraen
Uchchi Kotta Vaikkuriyae Vaadaa
Nee Echchi Oora Vaikkura
En Udamba Thaikkura
Edhukku Thalli Nikkura Vaadaa
Naan Saamaththula Muzhikkuren
Saarapaambaa Neliyuran Muzhikkuren
Enna Senja Enna Nee Konjam Solludaa
Un Murattu Aasa Enakkuthaan
Athuvum Theriyum Unakkuthaan
Enna Seiyya Unna Thinnu Theekka Poran
Konjam Konjamaaga Konji Kolla Poran
Veecharuvaa Illaamale Vetti Saaikkura
Velukambu Vaarthaiyaala Kuththi Kilikkura
Soothanamaa Anga Inga Killi Vaikkura
Soosagamaa Aasayellaam Solli Vaikkura
Nee Thottu Paesu Sikkuram
Vittu Pogum En Juram
Vetti Kadha Paesa Vaenaa Vaadaa
Naan Olappaaya Virikkuran
Unakku Virunthu Vaikkuran
Muzhusaa Enna Thinuputtu Podaa
Nee Ethuku Thayangi Nikkura
Enna Othukki Vaikkura
Summaa Murandu Pudikkura Katti Alludaa
Un Murattu Thimiru Enakkuthaan
Athuvum Theriyum Unakkuthaan
Poththi Vachcha Aasa Aaponcuthadaa Ulayaa
Poththukittu Ooththa Aapoguthadaa Mazhayaa
Lallahi Laaire Laaire
Lallahi Laaire Laaire…
Kaattu Payale Music Video
Written by: Snekan
Found Any Mistake in Lyrics?, Please Report In Contact Section with Correct Lyrics!
You may also like...