Khuda Maujood Hai Lyrics – One Day Justice Delivered
Khuda Maujood Hai Latest Hindi Song from movie One Day Justice Delivered in the voice of Farhad featuring Anupam Kher & Esha Gupta. The music of new song is given by Joy Anjan while Lyrics penned by Alaukik Rahi.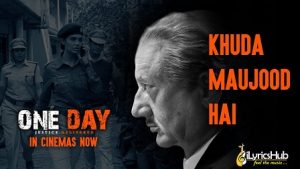 Khuda Mauzood Hai Lyrics
Sach Ka Gala Ghoth Ke
Jhooth Ne Saajish Rachdi Hai
Gunehgaar Zinda Hai
Aab Zurm Ne Bhi Had Kardi Hai
Jab Koyi Nahi Mahfooz Ho
Insaaf Se Mahroom Ho
Tab Dil Ko Kahi Na Kahi Lagta Hai
Khuda Maujood Hai
Yada-Yada Hi Dharmasya
Glaani Bhavati Bharate
Abhyuthanam Adharmasya
Tadatmaanam Srijamyaham
Hairat Jada Manjar Hai
Har Hath Mein Khanjar Hai
Oh O Nazre Sabhi Katil Hai
Apradh Ka Samandar Hai
Paritranaya Sadhunam
Vinasaya Ch Duskrta
Dharma Samsthapanrthaya
Sambhawami Yuge-Yuge
Lahu Kisi Ka Toh Khaulega
Insaaf Koyi Daudega
Khuda Maujud Hai
Found Any Mistake in Lyrics?, Please Report In Contact Section with Correct Lyrics!