Lamborghini Lyrics – Khan Bhaini
Lamborghini Lyrics by Khan Bhaini is Latest Punjabi song sung by Khan Bhaini, Shipra Goyal and this brand new song is featuring Raj Shoker. Lamborghini song lyrics are also penned down by Khan Bhaini while music is given by Syco Style and video is directed by Teji Sandhu.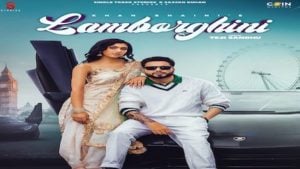 Lamborghini Song Details:
| | |
| --- | --- |
| Song: | Lamborghini |
| Singer: | Khan Bhaini, Shipra Goyal |
| Lyrics: | Khan Bhaini |
| Music: | Syco Style |
| Starring: | Khan Bhaini, Raj Shoker |
| Label: | ST Studio |
Lamborghini Lyrics
Ve Lamborghini Waleya Main Kehni Aa
Hunn Ki Kehni Aa?
Ve Lamborghini Waleya Main Kehni Aa
Tere Kam Ne Putthe Taan Main Ladti Rehni Aa
Tu Side Te Gaddi La Ve Main Na Behni Aa
Oh Rim Car De Chamkan Balliye
Teri Wadhgi Kahton Dhadkan Balliye
2 Rakhiye Asle Naal Bottle'an
Diggi De Vich Khadkan Balliye
Jo Bina Gall Ton Badkan Balliye
Oh Ankhan De Vich Radkan Balliye
Eh Parso Di Ankh Fadak Rahi Aa
Ni Dole Jatt De Fadkan Balliye
Ve Sadde Pinda Val Hunn Gall Jehi Faili Aa
Bhaini Aala Khan Taan Kehnde Velly Aa
Oh Mainu Loki Kehan Ke Munda Velly Aa Oye
Sycostyle!
Ve Milda Tainu Ladke Ki Aa
Jatt Lad'da Yaara Karke Hi Aa
Ve Eh Taan Tainu Yaad Ni Hona
Dass Fir Mainu Tadke Ki Aa
Oh Tadke Taan Kujh Khaas Ni Balliye
Utthan Di Vi Aas Ni Balliye
Ae Etki Ghar Deya Naal Manaunde
Oh Birthday Tera Kaash Ni Balliye
Oh Happy Birthday To You
Tainu Jatt Wallon Diamond Di Ring Milu
Ajj Jatt Wallon Suneya Ni Hona Kade Tu
Ajj Jatt Wallon Aankhya Jaau I Love You
Har Vaari Karke Kehna Ae Tu Galti Pehli Aa
Oh Jatti Nu Laike Karda Jatta Ankheli Aa
Ve Mere Warge Naar Na Bombay Delhi Aa
Hona Na Jane Khane Naal Adeya Kar Tu
Oh Fikar Na Jattiye Kareya Kar Tu
Te Next Week Gharwali Aaju
Hunn Ghare Time Naal Badeya Kar Tu
2 Langne Ghar Ton Bahar Aa Balliye
Aa Hi Taan Din 4 Aa Balliye
Ve Main Responsibility Teri
Oh Chakkan Nu Jatt Taiyar Aa Balliye
Ok Listen To Me Baby Baitho Tussi Car Ch
Main Milke Teji Nu Bas Aaya Minute 4 Ch
Ni Kari Involve Na Bhaiyan De Pyar Ch
Ni Aithe Hi Sabar Bas Hai Ni Tere Yaar Ch
Tu Kismat De Vich Likheya Ta Kattni Paini Aa
Oh Friend Aa Sadde Car Sada Naa Rehni Aa
Jinna Chir Jeonde Yaar Na Tension Laini Aa
Lamborghini Music Video
Written by: Khan Bhaini
Found Any Mistake in Lyrics?, Please Report In Contact Section with Correct Lyrics!
You may also like...