Main Woh Raat Hoon Lyrics – Commando 3 | Ankit Tiwari
Main Woh Raat Hoon Lyrics from Commando 3 is Latest Hindi song sung by Ankit Tiwari featuring Vidyut Jammwal, Adah Sharma. The music of new song is given by Mannan Shaah while lyrics penned by Abhendra Kumar Upadhyay.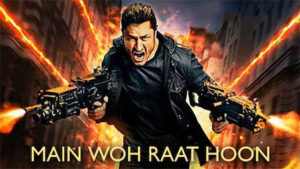 Song Details:
Song: Main Woh Raat Hoon
Movie:
Commando 3
Singer:
Ankit Tiwari
Music:
Mannan Shaah
Featuring Artists: Vidyut Jammwal , Adah Sharma
Label:
Zee Music Company
Main Woh Raat Hoon Lyrics
Main Woh Raat Hoon
Wo Halaat Hoon
Jiski Na Hai Door Door
Ab Toh Subah Koi
Main Toh Shor Hoon
Par Chup Chaap Hoon
Mujhse Koi Khali Nahi
Dekho Jagah Koi
Sun Re Meri Aankho Ki Zameen Pe
Dena Dikhayi Kuchh Nami Se
Koyi Toh Jaane Meri Bebasi Bebasi
O Ooo
Sun Le Mera Sooraj Bhi Galti Se
Dooba Meri Khidki Pe
Kahaan Se Aayegi Haan Roshni Roshni
O Oo
O Ooo, Wo Oo….
Haan Din Mein Hi Shaam Si Hai
Thodi Thakaan Si Hai
Haara Nahi Hu Main Ab Talak To
Main Uthke Fir Khada Hu Dekho
Haan Mere Haathon Ki Lakeerein
Mere Haathon Mein Bachi Hai
Koi Kya Mitayega Aake Inko
Mere Haathon Mein Rahengi
Toh Fir Dard Saare Ye Daba Ke
Zid Ko Ziddi Banaa Ke
Ab Rahunga Nahi Yun Chup Main Chup Main
O Oo O Oo
Toh Phir Saanse Zakhmi Banaa Ke
Kasmein Aansuyon Ki Kha Ke
Ab Ladunga Yahaan Bhi Khud Main Khud Main
O Oo
O Ooo, Wo Oo….
Found Any Mistake in Lyrics?, Please Report In Contact Section with Correct Lyrics!
You may also like...