Masti Majak Lyrics – Pramod Premi Yadav
Masti Majak Lyrics by Pramod Premi Yadav is Latest Bhojpuri song sung by Pramod Premi Yadav, Shilpi Raj and music of this new song is given by Arya Sharma while lyrics written by Krishna Bedardi and video is released by Wave music.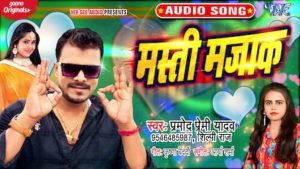 Masti Majak Song Details:
Masti Majak Lyrics
Hello
Hello, Hello
Hello
Kahan Ho?
Hum Ta Maidan Me Bani
Acha, Maidan Me Ho
Haan Ho
Bole The Kuch Yaad Hai?
Na Ta
Bilkul Kamine Ho
Ka Bola Taru?
Dinner Pe Humko Ghumaya Nahi
Bol Ke Tum Lahnga Dilaya Nahi
Lahnga Lebe?
Badi Mahanga Ba Aasha Chhodd De
Dinner Pe Humko Ghumaya Nahi
Bol Ke Tum Lehnga Dilaya Nahi
Main Nahi Bolungi Tere Jaise Kutta Se
Ka Bola Tare, Kutta?
Ji!
Hene Aab Hene Aab Ta Re
Bol?
Marab Jutta Se
Maraba?
Marab Jutta Se
Chup!
Marab Jutta Se
Tua-Aru!
Marab Jutta Se
Tohari Maai Ke Pranam Karo
Gariyaiba Tu?
Ji!
Jutta Se, Chup…
Kehu Ke Naahi Lahela, Acha!
Pramod've Aake Mahe La, Haa Nu!
Dhakka Se Pakka Dhahela
Bad Bandar Bada
Sara Zamana Kahela, Arey Ja!
Mor Piya Dhakdhakwa Ke Chinh Jo
Ha Chinhata!
Baaton Se Apne Mukar Jate Ho
Kuch Bhi Kahungi Toh Lad Jate Ho
Samjhe?
Chup Harahi
Chup Haraha
Chup Harahi
Chup Haraha
Chup Harahi
Te Haraha
Suna?
Bola Na!
Dher Angreji Mat Bana
Na Ta Laur Se Khaur Deb
Nati Lole Kuch Deb Dhake
Lole Kuch Deb Dhake
Marab Jutta Se
Chup!
Marab Jutta Se
Shut-up!
Marab Jutta Se
Na Chup Rahbe?
Bujhale?
Case Karwa Deb Case!
Jitna Bhi Kar Dunga Naam Nahi Logi
Badle Me Ek Din Dhokha Hi Dogi
Suno?, Bol!
Aisa Baat Nahi Hai Babu
Khati Hu Toh Gaati Hu
Chup Jhoothi
Te Jhutha
Chup Jhoothi
Are Te Jhutha Hayis
Main Na Banhaungi
Tere Wale Khuta Se
Samjhe!
Acha!
Ji!
Ta Aaibe Na Ta Jaibe Kahan?
Ghare!
Marab Juta Se, Ae
Marab Juta Se, Koo
Marab Juta Se, Uuu
Marab Juta Se Bujhale?
Sorry Jaanu
Sorry To You Baby!
Masti Majak Music Video
Written by: Krishna Bedardi
Found Any Mistake in Lyrics?, Please Report In Contact Section with Correct Lyrics!
You may also like...