Manaka Da Munda Lyrics – Jass Manak, Bohemia
Manaka Da Munda Lyrics sung by "Jass Manak" & Rap by "Bohemia" From Album "Age 19" The Music of the new song is given by Sukh-E (Muzical Doctorz) while lyrics are penned down by Jass Manak.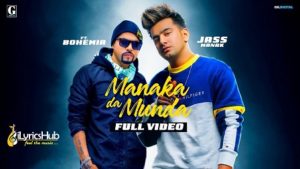 Manaka Da Munda Lyrics
Jass Manak, Bohemia…!
Lets Go… Come On….!
Oh Munda Manka Da
Jaat Nu Vi Kehan Patlo
Jatt Ankh De Ishaare Naal
Na Tain Nakhro
Je Tu Leke Kaali Porsche
Gede Maardi
Jatt Aage Piche Ranga Chaar
Rehan Patlo
Haan…!
Yaar Ne Dunali Warge
Hoo…!
Cheez Ha Sambhali Varge
Haan…!
Je Tere Piche Lina Lagiyan
Naa…!
Ho Jatt Te Patole Marde
Yeh…!
Ho Paake Ni Tu Suit Rakhdi
Hoo…!
Ho Gaadi Wicho Mainu Takdi
Haan…!
Ho Saade Mure Shehar Kunddiye
Naa…!
Oh Hype Aa Tere Lakk Di Oh…
Yeh….!
Aah Bohemia…!
Dillo Sada Naujawan Munda
Dusmana Di Jaan
Kadde Yaara Di Jaan Munda
Aaje Vi Gall Ni Koi Maadi
Poori Taiyari
Pass Kare Saare Imtehaan Munda
Daur Meri Te Mere Yaar Di Chain Hun
Main Dunali Ch Piche Yaara Di Range Hun
Jado Paale Mere Kakh Ni Si Thik Si Sab
Par Saare Add Kare Strange Hun
Hunh Haan
Par Hor Main Add Kara Bore
Jado Stack Kara Jor
Cadillac Four Door
Meinu Pata Hai Teinu Kehan Di Nai Load
Par Lakk Tera Patla Jive 12 Bore
Ho Lakk Tera Patla, Patla…
Patla, Patla…
Mundiya Te Kitte Katla, Katla…
Katla, Katla…
Oh Lakk Tera Patla, Patla…
Mundiya Te Kitte Katla, Katla…
Rang Munda Da Vi Gora, Gora
Haale 19 Ya Saala Da Chora
Haan…!
Naara Da Na Paani Parda
Yeh….!
Jatt Kise To Na Darda, Ho
Hoo…!
Oh Munda Piche Rush Hogaya
Haan…
Naara Da Crush Ho Gaya
Naa…!
Ankh Teri Pilli Goriye
Yeh….
Oh Rehni Aa Tu Dilli Goriye
Hoo…!
Oh Utto Meinu Honey Lagdi
Haan….!
Andro Red Chilly Goriye Oh
Oh Ho Oh Ho…
Found Any Mistake in Lyrics?, Please Report In Contact Section with Correct Lyrics!