Na Ja Tu Lyrics – Dhvani Bhanushali
Na Ja Tu Lyrics by Dhvani Bhanushali is Latest Hindi song written by Tanishk Bagchi and music of new song is also composed by Tanishk Bagchi while video is Directed by Sumit Dutt.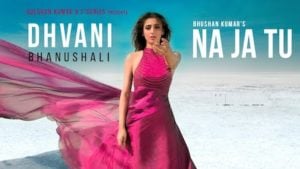 Na Ja Tu Lyrics
Na Ja Tu Door Ankhiyon Se
Ki Nahi Jaana, Nahi Jaana
Ke Tutt Jaaun Main
Dil Se Door Tu Nai Jaana
Nai Jaana
Kya Hai Ab Tere Baad Mera
Tu Milna Paya Pyar Tera
Tu Raha Na Jo Yaar Mera
Haan Pyaar Mera
Tujhe Qadar Nahi Ek Waar Meri
Jo Maine Ki Har Baar Teri
Ro Ro Ke Thak Gayi Ankhiyan Meri
Mere Yaar Na Ja
Subah Se Shaam Tak Dekha Tujhe
Soyun Nahi, Soyun Nahi
Haan Mere Paas Hi Reh Jaao Na
Yahin Kahin, Yahin Kahin
Main Ho Gayi Hu Khud Se Bekhabar
Khoya Maine Sabar Ye Tera Hi Asar
Tere Liye Bhooli Main Ye Jahan
Na Jaane Tu Kahan Gaya Oh Humsafar
Yaar Na Ja
Tu Rok Na Mujhe Hai Jeena Tujhe
Mujhse Juda, Mujhse Juda
Tujhse Nahi Hu Main, Main Toh Khud Se Hi
Hu Khafa, Main Hu Khafa
Tutega Dil Na Kabhi Aisa Kar
Jo Kiya Tu Agar Main Jaungi Bikhar
Tere Bina Kya Mera Hai Yahan
Tujhi Mein Hai Jahan Kyun Hai Tu Bekhbar
Ni Mere Yaar Na Ja
Nahi Jaana!
"Tumhein Khokar
Maine Apne Aap Ko Paa Liya"
Na Ja Tu Music Video
Written by: Tanishk Bagchi
Found Any Mistake in Lyrics?, Please Report In Contact Section with Correct Lyrics!
You may also like...