Udi Udi Jaye Lyrics – Raees | Shah Rukh Khan & Mahira Khan | Ram Sampath
Udi Udi Jaye Lyrics – Raees | Shah Rukh Khan & Mahira Khan | Ram Sampath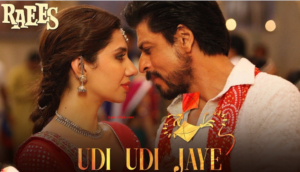 Song Details:
Song : Udi Udi Jaye
Music Composed & Produced by : Ram Sampath
Singers : Sukhwinder Singh, Bhoomi Trivedi & Karsan Sagathia
Lyrics by : Javed Akhtar
Choreography : Samir & Arsh Tanna
Music On – Zee Music Company
Udi Udi Jaye Lyrics
Arey udi udi udi… udi jaye…
Udi udi jaye
Udi udi jaye
Dil ki patang dekho
Udi udi jaye..(x2)
Kehne ko toh khel hai
Ye tera mera sanjha
Par mera dil hai patang
Aur teri nazar manjha
Manjhe se lipti ye patang
Judi judi jaaye
Udi udi jaye
Udi udi jaye
Dil ki patang dekho
Udi udi jaye…
Do dil ude, do dil ude
Unche aasmaano mein jude..(x2)
(Udi udi jaye)
Mujhe kab tha pata iska
Tere prem ka iktaara
Mann mein yun pal pal baajega
Mujhe kab thi khabar iski
Mere mann ke singhasan par tu
Sada ko yun tu birajega
Koi bhi kathinayi ho ya koi ho majburi
Teri meri ek bhi pal hove nahi doori…
Manjhe se lipti ye patang
Judi judi jaye
Udi udi jaye
Udi udi jaye
Dil ki patang dekho
Udi udi jaye..(x2)
(….Gujarati…)
Tarne tarlo melo jamyo
Jamyo het no hudo..(x2)
Hale koni rami layi
Hale koni rami layi
Tarne tarlo melo jamyo
Jamyo het no hudo..(x2)
Mere jeevan ke galle mein
Tera pyar hi toh mera dhan hai
Tu hai toh dhanwaan hoon main
Ho.. prem ke iss mohalle mein
Mera ghar tera hi to ye mann hai
Ki teri mehmaan hoon main, haan!
Jaise sugandh phool ke sang
Chaand ke sang kiran..
Jaise daaru ke sang
Baam ke sag ragan
Manjhe se lipti ye patang
Judi judi jaye…
Udi udi jaye
Udi udi jaye
Dil ki patang dekho
Udi udi jaye
Ye jo patang hai tere hi sang hai
Teri hi ore dekh mudi mudi jaye…
Do dil ude, do dil ude
Unche aasmaano mein jude..(x2)
Arey udi udi udi… udi jaye….
Udi udi jaye….
Found Any Mistake in Lyrics?, Please Report In Contact Section with Correct Lyrics!