Virus Song Lyrics – Bohemia
Virus Song Lyrics by Bohemia is Latest Punjabi song sung and written by Bohemia. The music of this new song is also given by Bohemia and video is also released by himself from his official Youtube Channel. Check out full lyrics and music video here.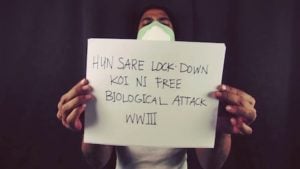 Song Details:
Song: Virus
Singer:
Bohemia
Music: Bohemia
Virus Song Lyrics
Kaamyabi Kidi Te Kurbani Kon Kare
Saare Gharan Ch Baithe
Baahar Nigraani Kaun Kare
Naale Bachan Da Kise Ik Da Vi Nai Chance
Bas Puchho Pehla Maran Di
Hun Taiyari Kaun Kare
Hun Saare Lock Down Koyi Ni Free
Biological Attack World War 3
KDM Face Mask Te Jehda Skull N Bones
Ohda Matlab World Is A Danger Zone
Hun Future Jinvein Back In Time
Hun Drug Dealer Saare Back Online
Jehda Sahi Ohdi Job Gayi
Par Jehda Criminal Back In Time
Hun Main Kinvein Karaan Hisaab
Bai Jhootha Saccha Kehda
Saare Paande Nakaab
Naale Meri Mere Lokan Nu Fariyad
Bhai Rab Da Naa Rakho Yaad
Written by: Bohemia

Found Any Mistake in Lyrics?, Please Report In Contact Section with Correct Lyrics!
You may also like...