Ay Pilla Lyrics – Love Story | Haricharan
Ay Pilla Lyrics from Love Story is Latest Telugu song sung by Haricharan. This song is featuring Naga Chaitanya, Sai Pallavi. The music of new song is given by Pawan Ch while lyrics penned by Chaithanya Pingali and video is directed by Sekhar Kammula.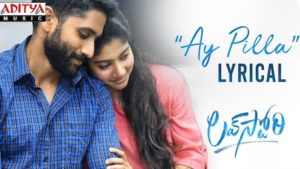 Ay Pilla Song Details:
| | |
| --- | --- |
| Song: | Ay Pilla |
| Movie: | Love Story (Telugu) |
| Singer: | Haricharan |
| Lyrics: | Chaithanya Pingali |
| Music: | Pawan Ch |
| Starring: | Naga Chaitanya, Sai Pallavi |
| Label: | Aditya Music |
Ay Pilla Lyrics
Ay Pilla Paruguna Podaamaa
Ye Vaipo Jantaga Undamaa
Ra Ra Kanche Dhuki
Chaka Chaka Vuruguthu
Aa Rangula Villuni Teesi
Ee Vayipoo Vanthena Vesi Raawaa
Enno Talapulu Evo Kalathalu
Batuke Poravu Tunna
Gaalo Patangi Malle
Yegire Kalale Navi
Aasa Nirasala Uyyalatalu
Poddu Mapulu Madhye
Nakantu Undinte
Undanta Eka Neeke
Neeto Ilaa Ye Beruku Lekundaa
Nuvve Igaa Na Batuku Antunnaa
Naa Ninna Nedu Repu Kurchi Neekai
Parichane Thalagadagaa
Nee Talani Vaalchi Kallu Terichi
Naa Ae Duniya Milamila Chude
Vache Malapulu Rastha Velugulu
Jaa Re Chinukula Jalle
Padugu Pekaa Malle
Ninnu Nannu Alle
Podde Teliyaka Galli Poduguna
Aade Pillala Hore
Naakantu Undinthe
Undantha Ika Neeke
Ay Pilla Paruguna Podaamaa
Ye Vaipo Jantaga Undamaa
Paare Nadai Na Kalalu Unnaaye
Chere Dare O Vedukutunaaye
Naa Gunde Oli Chesi Aachi Tuchi
Andincha Jaatarala Aa Kshanamu
Chathi Paina Joli Choosa
Lokam Merupula Jaade
Ningina Mabbulu Iche Bahumati
Nelana Kanipistunde
Maare Needalu Geese
Tele Bommalu Chude
Patnam Cherina Paala Punthalu
Pallela Santhala Baare
Naakantu Undhinthe
Undantha Ika Neeke
Ay Pilla Music Video
Written by: Chaithanya Pingali
Found Any Mistake in Lyrics?, Please Report In Contact Section with Correct Lyrics!
You may also like...