Brand Lyrics – Sumit Goswami
Brand Lyrics by Sumit Goswami is Latest Haryanvi song sung and written by Sumit Goswami and music of the new song is given by Khatri while video is directed by Deepesh Goyal, Sumit Goswami.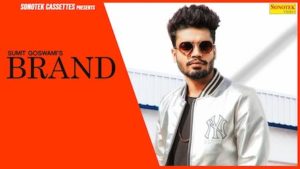 Brand Lyrics
Brand Lyrics and video will be updated on 17-Feb-2020. Till that enjoy the teaser.
Written by: Sumit Goswami

Found Any Mistake in Lyrics?, Please Report In Contact Section with Correct Lyrics!
You may also like...