Bye Pewdiepie Lyrics – CarryMinati (Ajey Nagar)
Bye Pewdiepie Lyrics by Carryminati (Ajey Nagar) is Diss Track On Pewdiepie. This song is sung and lyrics written by "Ajey Nagar" and Music of the song is given by Retnik Beats.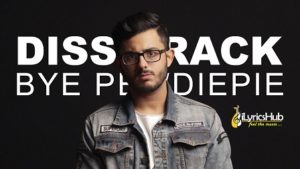 Bye Pewdiepie Song Details:
Bye Pewdiepie Lyrics
Iss Iss Desh Ke Khilaaf Hui Duniya
Kitni Nikaaloge Humari Kamiyan
Aaj Naachega Tu Jaise Chhamiya
Ek Chhamiyan, Ha Han
Khatam Ab Tera Raaj Hua
Peeche Dekh Tera Baap Khada
Tujhse Yeh Lal Sher Bada
Aaj Bolenge Humme Insaaf Mila
Aaj Bolenge Humme Insaaf Mila
Tere Kaando Ka Nateeja Aaya
Jisne Tha Sabko Rulaya
Woh Tha Ek Peela Saaya
Koi Bhi Usse Bach Na Paaya
Creators Ka Hua Safaya
Saari Mushkil Tu Hi Laaya
Koi Yeh Baat Bolta Nahi Nah
Kyuki Janta Ko Parwah Nahi Nah
Ko Ye Baat Sochta Nahi Nah
Uska Kuch Jamta Nahi Nah
Koi Ye Baat Maanta Nahi Nah
Uska Kuch Jaata Nahi Nah
Uska Kuch Jaata Nahi Yaar Ha Haan
Aankhe Neeli Ho Ya Kaali
Tum Sab Par Hum Hai Bhaari
Kaale Jaadu Ki Hai Baari
Teri Jhaant Jaisi Daadhi
Tujhe Kal Hi Katwani,
Tere Shauk Hai Nawabi
Dekho Ye Hai Tumhari Bhabhi
Tumhari Bhabhi
Dekho Ye Hai Tumhari Bhabhi
Tumhari Bhabhi Haa..
Bitch Lasagna…! Ha Haan…!
Bitch Lasagna… Haan…!
Bitch Lasagna Hasske Dikha Diya
Galle Laga Liya, Mazaak Bana Diya
Number Badha Diya, Gussa Dila Diya
Khayega Gaaliyan, Pehnaunga Saariya
Pehnaunga Saariya
Teri Bachkani Harkate Tujhko Dubayegi
T-Series Comapny Tujhe Harayegi
Ek Din India Poori Duniya Chalayegi
Sabse Pehle Tumhe Dhona Sikhayegi
Gore Gaalo Pe Do Thappad Chipkayegi
Tab Bhaasa Humari Samjh Me Aayegi
Nazarbattu…! Ab Katega Tu
Nazarbattu…! Ab Marega Tu
Lets go…!
Main Pagal Sa Gamer Hun Sabko Hassa Dunga
Pubg Khila Dunga, Naach Ke Dikha Dunga
Maze Kara Dunga, Nashe Kara Dunga
Sabko Hila Dunga
Itne Saalo Se Jaante, Bas Itna Hi Tum Maante
Jo Aata Tumhare Paas Mein
Usse Bhatka Date Kaam Se
Tumhare Baare Mein Maine Bataya Hai
Tabhi Woh Tumhare Gaane Me Aaya Hai
Apne Hi Bande Ko Jhootha Bataya Hai
Sachai Ko Kitni Pyaar Se Chupaya Hai
Tumhare Anthem Mein Mera Bhi Naam Hai
Views Paane Ka Yeh Sahi Kaam Hai
Main Bhi Puraana Khilaadi Hu
Ghar Baitha Bookha Shikari Hu
Tune Donate Kia Uske Liye Thank You
Lekin Ye Jo Tera Chota Tatta Hai Na
Isko Sambhal Ke Rakha Kar
Bahut Fudakta Rahta Hai Ye
These Mother@###@@ Have Like
1.4 Billion People In India
Kuch To Karna Padega Na
Dimaag Me Laga Hai Zung
Kitni Karu Teri Jhand
Badlega Tu Kitne Rang
Ye Meri Nahi Hai Jung
Tere Chehare Mein Kuch Gadbad
Pulic Ke Chakkar Mein Mat Padh
Hassle Beta Jee Bhar Kar
Sunle Apne Paap Kaan Khol Kar
Dhuaan Kitna Chhodhta
Hamari Janta Mangta
Kaise Khwaab Dekhta, Niyamo Ko Todta
Itna Hi Tu Bhookha Hai
Humaar Bhasha Seekh Le
Haan Jeet Le
Humari Janta Cheen Le
Humari Janta Cheen Le
Bye Pewdiepie Music Video
Written by: Ajey Nagar (CarryMinati)
Found Any Mistake in Lyrics?, Please Report In Contact Section with Correct Lyrics!
You may also like...