Happy Happy Lyrics – Blackmail | Irrfan Khan, Badshah
Happy Happy Lyrics – Blackmail | Irrfan Khan, Badshah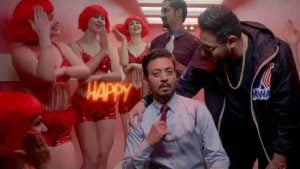 Song Details:
Song: Happy Happy
Singer: Badshah, Aastha Gill
Lyrics: Badshah
Music: Badshah
Movie: Blackmail
Music Label: T-Series
Movie Release Date: 6 April 2018
Happy Happy Lyrics
Winter Ka Maheena
Us Par Tujh Jaisi Haseena
Bolo Phir Mera Dil
Kyun Na Ho Slip Baby?
Aaya Jo Paseena
Tujhe Chhuta Hai Paseena
Mera Jaane Kaisi Teri… Trip Trip Trip
Main Udne Lagi Hoon High High High
Hua Tujhse Connection Jaise Free Ka Wifi
Sabko Kar Diya Maine Bye Bye Bye
Aa Tujhse Milke Kyun Kabhi Why Why Why
Main Happy Happy Hoon….(x4)
Pyar Mein Kya Pad Gaya
Duniya Se Main Lad Gaya
Tujhko Tha Phasaana Jaanam
Main Khud Hi Phas Gaya
Ab Scene Thoda Sad Hai
Little Bit Ye Bad Hai
Koi Kisi Ka Baby
Time Sab Ka Dad Hai
Ik Dooje Ke Piche Babu
Ghoome Round And Round
Phat Gaye Underwear Baby
Ho Gaye Underground
Phaila Dekho Raita
Na Koi Sahayata
Phir Bhi Munh Pe Smile Rakh Ke
Baby Gaaye Jaa
Main Happy Happy Hoon….(x4)
Jab Karta Aisi Baatein Tu Hifi Fi
Lage Mujhe Bada Cutiepie Pie Pie
Sachi Muchi Baby No Lie Lie Lie
Mujhe Nahi Pata Tell Me Why Why Why
But
Main Happy Happy Hoon….(x4)
Found Any Mistake in Lyrics?, Please Report In Contact Section with Correct Lyrics!
You may also like...