Lil Bunty Lyrics – Kr$Na
Lil Bunty Lyrics by Kr$Na is brand new Hindi Rap song sung by KrsNa and music of this latest song is given by Flamboy. Lil Bunty song lyrics are also penned down by KR$NA while video has been directed by Director Grim.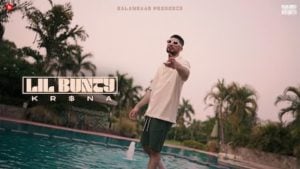 Lil Bunty Song Details:
| | |
| --- | --- |
| Song: | Lil Bunty |
| Singer: | Kr$na |
| Lyrics: | Kr$na |
| Music: | Flamboy |
| Label: | Kr$na |
Lil Bunty Lyrics
Lil Bunty!
Daddy Is Home!
Papa Papa Yeah
You Ready?
Hahaha
Real Talk Main Hoon Realest In The Scene
Suna Bunty Ki Jali Toh Phir Yeh Hai Kerosene
Yeh Hai Real Rap Pull Your Fu*kin' Hair Back
Dhayi Saal Pehle Maine Li Thi Iski Bareback
Bana Main Bada Toh Yeh Meri Kala Se
Jala Kyun? Jab Kara Tha Mana
Kiya Tha Bhala Ab Toh Mara Tu
Kalam Chala Toh Parampara Mein Hara Doon
Femiway Kare Swing Both Ways Jaise Tarazu
Krsna The Chup Magar Haar Ni Maane
Inhone Bohat Try Kara Maar Ni Paye
Tu Hai Sugar Karle Shukar
Tum Toh Maar Ni Kha Rahe
Bane Yeh Kaise Pablo
Jab Isko Bar Nahi Aa Rahe
Kara Tha Maine Khatma
Ab Maroon Iski Aatma
Jeebh Bahar Rehti Iski
Aadat Hai Chaatna
Hui Iski Hype Dead
Toh Aaya Mere Paas Na
Aake Mujhe G*nd Di Aur
Main Na Koi Mahatma, Kya?
Ja Bete Ab Sehla Apne Man Ko
Bada Hoga Nahi Flex Karke Dhan Ko
Chhote Come Out Toh Play
Har Raat Bolta Hoga Apne L*nd Ko
Shot Dene Laga Ho Gaye Saare Shot Fail
Kara Ise Down Pehle Round Mein Hi Bohat Tez
Diss Mein Sirf La*De Yeh La*De Woh
Bas La*De Ki Kahaniyan
But I Ain't Into Cocktails
Beef Karna Hai Mummy Poochh
Jala Dunga Tujhe Jaise
Yahan Garmi Mein Dhoop
Leta Main Inki Jab Bolta Hai Pinki
Toh Mujhe Yaad Aati Iski Bandi Ki Ssshhh
Ho Lele Bunty Hai Sad Ab
Sab Jaante Hai Bunty Hai Whack Ab
Jab Litaun Tujhe Neeche Main
Loon Main Teri Peechhe Se
Is The Only Time I Need Backup
Main Mere Pantar Marte Hai Hunter
Subah Sham Lete Teri Jamkar
Beat Par Hai Flamboy
Khade Ni Rehne Ka Chal Chhote Jump Kar
Chal Chhote Jump Kar Aake Mere L*nd Par
Band Kar Chhote Natak Kam Kar
Lunga Teri Toh Hoga Tu Out Of Sampark
Halki Tone Mein Meri Hi Linein Bol Ke
Ise Laga Yeh Cold Hai Nakalchi Hote Bandar
Mare Pade Jo Aake Kare Yahan Rumble
Silverback Mein Rap Bhale Aa Jungle
Hilata Reh Beta Odh Ke Tu Kambal
Skin Light Mind Se Main Dark Hoon Chambal
Rap Pe Aata Toh Padhte Rapad Hai Tujhe
No Facts Jab Attack Kare Mujhe
8 Saal Ho Gaye Rap Kare Tujhe
Abhi Bhi Koyi Manta Nahi
Rapper Hai Tujhe Haan
Koyi Bhi Sunega Ab Tera Yeh Diss
Toh Lagega Desperate For Dollar Ka D**k
Yeh Gadhe Ki Ch**t Bol Raha Apun Hai Dhoop
Toh Kr$Na Phir Laya Yahan Solar Eclipse
Ab Bana Tu Pahaad Yahan Ghaati Hai Dost
Lagta Tu Dharti Pe Bhari Hai Bojh
Yeh Anpadh Gawaar R*nd Chhamiya Chin*ll Se
Aage Na Inki Badhti Hai Soch
Ghav Tu Sila Lele Bandage Backstage
If I Catch Son Might Jack Son Rampage
Thukayi Hogi Chhote Lenge Teri Chain Se
Tera Only Fan Page Hoga Only Fans Pe
Femiway Pu**y Whipped That's A Fact Done
Your Bi*ch Prolly Like Toh F**k You
With A Strap On
All I Need Is One Verse
Toh Put You In A Hearse And
I Don't Even Have To Put My Cap On
Kalamkar Ko Bana Baitha Main Death Rows
Iss Baari Iski Maut Tall Na Paye Jaise Jethro
Ending The Silence With Violins Of Violence
Now Watch A Dead Rapper Get F**ked No Necro
Kulfa Kya Karegi Kulfi Hai Khud
Bunty Toh Lagta Hai Budhi Se Dusht
Automatic Tha Brush Automatic Ab Taangein
Jab Dikhta Hai Dollar Toh Khulti Hai Khud
Dekho Yeh Chhapri Hai Soch Iski Naali Mein
Isko Laga Yeh Brutal Hai Gaali Se
Mera Gana Nahi Chala Tha Tere Naam Se
Chala Mera Gaana Teri Badnaami Se
Hahaha
Yeh Toh Teaser Hai Chhote
Written by: Kr$na
Found Any Mistake in Lyrics?, Please Report In Contact Section with Correct Lyrics!
You may also like...