Maay Bhavani Lyrics – Tanhaji | Sukhwinder x Shreya Ghosal
Maay Bhavani Lyrics from Tanhaji – The Unsung Warrior is Latest Hindi song sung by Sukhwinder Singh, Shreya Ghosal featuring Ajay Devgn and Kajol. The music of new song is given by Ajay – Atul while lyrics penned by Swanand Kirkire and video is directed by Om Raut.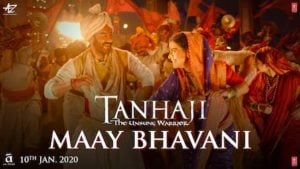 Maay Bhavani Song Details:
Maay Bhavani Lyrics
Sa-Ra-Ra Holika Jale
Shatru Raakh Mein Mile
Humne Jab Jab Samshire
Tani Hai Maay Bhavani
Sa-Na-N Aandhiya Uthe
Shatru Jad Se Mite
Humne Baat Yahi Mann Mein
Thani Hai Maa Ae Bhavani
Hum Sab Mard Maavade
Bade Khudar Hain
Ab Har Ek Din Svaraaj Ka
Tayohaar Hain
Ab Ye Shish Na Jhuke
Teri Laaj Hum Rkhe
Tere Charno Ki Shapath
Maa Jagdambe Hai Maa Ae Bhavani
Ho, Dhuya Dhuya Gehara Tha
Ghana Sa Andhera Tha
Toone Usme Roshni Bhari
Hey Daan Diya Bhakti Ka
Daan Diya Shakti Ka
Tune Hi Ton Jholiyan Bhari
Jo Bhi Barson Barson Tarsi Thi
Aayi Unn Honthon Pe Hanshi
Ambbe Mata Teri Kirpa Se
Mere Ghar Mein Aayi Khushi
Hum Chattan Se Datte Kabhi Na
Raah Se Hate
Hamne Bat Yahi Maan Mein
Thani Hai Maay Bhavani
Maa Ae Bhavani
Maa Ae Bhavani
Written by: Swanand Kirkire
Found Any Mistake in Lyrics?, Please Report In Contact Section with Correct Lyrics!
You may also like...