Mallika Mallika Lyrics – Shaakuntalam (Telugu)
Mallika Mallika Lyrics from Shaakuntalam is brand new Telugu song sung by Ramya Behara while this latest song is featuring Samantha. Mallika Mallika song lyrics are penned down by Chaitanya Prasad while music is given by Mani Sharma and video has been directed by Gunasekhar.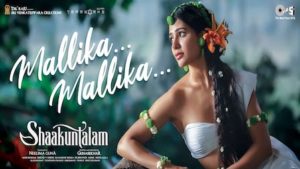 Mallika Mallika Song Details:
| | |
| --- | --- |
| Song: | Mallika Mallika |
| Movie: | Shaakuntalam |
| Singer: | Ramya Behara |
| Lyrics: | Chaitanya Prasad |
| Music: | Mani Sharma |
| Starring: | Samantha |
| Label: | Tips Music |
Mallika Mallika Lyrics
Mallika Mallika Malathee Maalika
Choodava Choodava Yedi Naa Yelika
Mallika Mallika Malathee Maalika
Choodava Choodava Yedi Naa Yelika
Hamsika Hamsika Jaaguney Seyaka
Poyira Poyira Raajutho Raa Ika
Athanikho Kaanuka Eeyana Nenika
Valapuke Nedoka Vedukey Kaaga
Aaha Neelaveanee
Pooche Poola Aamanee
Raaje Chentha Chera
Rajyannelu Maa Raani
Munula Ghanula Mana Vanaseema
Maaruni Sharamu Parama
Madhura Sudhala Sumama
Manasu Nilupa Tarama
Swapnika Chaitrika
Na Priya Netrika
Choodava Choodava
Yedi Naa Yelika
Saaguma Meghama Meghama
Saaguma Meghama
Swamine Cheruma Vaanale Veenalai
Maa Kathe Paaduma
Nee Cheli Nechheli
Chulu Daalchindhani
Sheeghrame Rammani
Maargame Choopuma
Milamila Merisele
Shaaradha Akaashame
Velavela Vennelai
Vegey Maa Preme
Thaara Thoranaley
Theerche Ningi Daaruley
Neley Paalapunthai
Nimpe Prema Deepaley
Marula Virula Rasajhari Lona
Manasu Thadise Lalana
Amala Kamala Nayana
Thelise Hrudhaya Thapana
Aakulo Aakunai
Aashrama Vaasinai
Aashaga Choodana
Athanee Raakakai
O Cheli Cheli
Endhuke Ee Chali
Bhoothalam Naa Madhee
Sheethalam Ayinadhee
Manchulo Munchina
Entha Vedhinchina
Athani Amshane
Vechhaga Daachani
Shishirame Aashala
Aakuley Raalchina
Chiguruley Veyaga
Chaithrame Kaana
Hemanthalu Ela
Seemanthalu Velalo
Chinthe Ela Baala
Vaasanthaale Neelona
Nelalu Gadichinavi Nela Baala
Kadhali Kadali Alalaa
Amara Vimala Sumama
Suguna Manini Kanuma
Kannule Vechele
Kaayale Kaachele
Aashaga Choodaga
Athanee Raakakai
Mallika Mallika Music Video
Written by: Chaitanya Prasad
Found Any Mistake in Lyrics?, Please Report In Contact Section with Correct Lyrics!
You may also like...