Ooouuu Lyrics – Karan Aujla
Oouuu Lyrics by Karan Aujla is brand new Punjabi song from album Way Ahead and music of this latest song is given by Yeah Proof. Oouuu song lyrics are also penned down by Karan Aujla while music video has been released by Rehaan Records.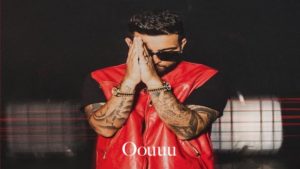 Oouuu Song Details:
| | |
| --- | --- |
| Song: | Oouuu |
| Album: | Way Ahead |
| Singer: | Karan Aujla |
| Lyrics: | Karan Aujla |
| Music: | Proof |
| Label: | Rehaan Records |
Ooouuu Lyrics
Ooouuu Ho
Yeah Proof!
Labhdi Phirdi Dil Mere Vich
Dil Tere Layi Rooh Kudey Ni
Paawan Photo Dekhe Karke
Baar Baar Tu Zoom Kudey
Paid Karaya Gutt Te Laya
Dollor Sadda Zehar Kudey Ni
Nakhre Jehe Na Maar Kudey Ni
Hath Ni Auna Yaar Kudey Ni
Ooouuu
Kudi Kardi Try Phire
Oouuu
Kanni Jhumke Pawai Phire
Oouuu
Nawi Rover Kadhayi Phire
Gehdi Route Aayi
Gall Aujle De Layi Phire
Ooouuu
Airi Gairi Shehri Vairi
Gabbru Rakhda Godde Te Ni
Ankh Badi Aa Bhar Bada Ne
Sir Dhar Li Na Modde Te
Assi Lave Ni Launde Painde
Vairi Mere Pairi Ne Ni
Zehri Ankhan Lehri Ne
Tere Bull Rakaane Cherry Ne Ni
Oouuu
Tainu Fikar Dior Di Ae
Oouuu
Sannu Fikar Pure Di Ae
Oouuu
Kudey Teri Gall Hor Jehi Ae
Chadhdi Ni Chheti Sanu
Saari Gall Lor Di Ae
Tu Ni Lag Sakdi
Haddan Nu Taan Lag Gayi
Tadke Nu Uth Ukki Sukhi Kha Liye
Kise Hathon Chupdi
Vi Lagge Na Swaad Kudey
Maa De Hathan Di Assi
Rukhi Kha Liye
Mukke Rukke Tukke Ni
Main Paani Ni Barsatan Da Ni
Safar Yaaran Da Raatan Da
Te Shukar Date Nu Data Da Ni
Asar Kare Ni Nazar Teri
Tu Nazar Mere Tijori Ae Ni
Tere Nain Billori Ae Ni
Par Mere Vallon Sorry Ae Ni
Ooouuu
Mexico Di Flight Ae Ni
Oouuu
Aithe Kaala Utte White Ae Ni
Oouuu
Tera Future Bright Ae Ni
Sadda Dassan Ki Ae
Saanu Shoot On Sight Ae
Aankhi Kaajal Kaajal Ne
Paagal Ne Paagal Ne Karte Munde
Lokan Di Hikkan Te Jatta Ne
Koke Ne Jarte Kudiye
Lor'an Ne Hor'an Nu
Choran Nu Gande Ne Padh De
Jinna Naal Varte
Ohna Nu Na Warte
Oouuu
Na Main Busy Na Main Vella Kudey
Oouuu
Ustad Na Main Chela Kudey
Oouuu
Jithe Jawan Lagge Mela Kudey
Kandeyan Te Khelan
Dassan Hor Ki Detail'an
Written by: Karan Aujla
Found Any Mistake in Lyrics?, Please Report In Contact Section with Correct Lyrics!
You may also like...