Pind Lyrics – Street Dancer 3D
Pind Lyrics from Street Dancer 3D is Latest Hinsi song sung by Gurinder Seagal featuring Varun Dhawan, Shraddha Kapoor, Nora Fatehi, and Prabhu Deva. The music of new song is also composed by Gurinder Seagal while lyrics penned by Kunaal Vermaa and video is directed by Remo D'Souza.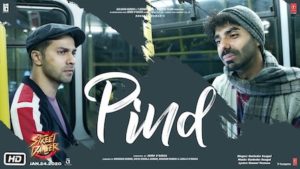 Pind Lyrics
Karde Vehde Maa Meri
Meri Raah Takkdi Ae
Mera Putt Salamat Ravein
Ardaas Kardi Ae
Supne Aaude Aake Hai
Kehnna Maa Bhukh Laggi Ae
Chaukhat Khuli Chhadd Ke
Chulla Bhaal Rakhdi Ae
Tere Dil Da Tukkda
Tukkde Tukkde Hoya
Ho Sake Taan Mainu Maaf Karde
Aina Kujh Ho Gaya
Fir Vi Zinda Haan Main
Apni Marzi De Naal
Mar Vi Na Main Saka
Jo Ditta Si Tu Naa
Oh Naa Vi Na Reha
Hunn Hor Ki Mein Lutana Ae
Mainu Pind Jaana Ae
Mainu Pind Jaana Ae
Maa Raah Takdi Ae Meri
Mainu Pind Jaana Ae
Written by: Kunaal Vermaa
Found Any Mistake in Lyrics?, Please Report In Contact Section with Correct Lyrics!
You may also like...