Question Mark Lyrics – Super 30 | Hrithik Roshan
Question Mark Another Song From Movie Super 30 in the voice of Hrithik Roshan. The music is composed by Ajay Atul while Lyrics penned by Amitabh Bhattacharya And Backing Vocals given by Suzanne D'Mello & Group.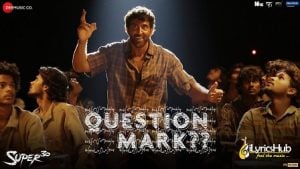 Question Mark Lyrics
Bheja Nichode Jo Saare Sawal
Ek-Ek Karke Dhundh Ke Nikaal
Kaahe Na Suljhenge Inki Majaal
Noch Ke Dikha De Bal Ke Bhi Khal
Sawalo Ke Bina Hai Zindagi Hai Dark
Bulb Ki Tarah Jalaa De Question Mark?
Question Mark, Question Mark?
Kyu Ek Baar Mein Hi Padhke Maan Le Hum
Kitabo Mein Likha Hai Jo
Maza Toh Tab Hai Jab Uh Karke Dikha De
Na Pehle Ho Sakaa Hai Jo
Sikhane Walo Ko Sikha Denge
Padhenge Aise Ki Padhaa Denge
Nahi Ke Shabd Ko Badal Ke Hum
Nahi Se Kyun Nahi Bana Denge
Are Buddhi Ki Circuit Mein
Paida Kar Oo Spark
Bann Ja Pyare Chalta Firta Question Mark?
Question Mark, Question Mark?
Jab Antar Mann Kare Jeet Kar
Utsukta Ho Sir Pe Sawar
Question Se Tu Mat Maan Haar
Chal Bheed Ja Barkhurdaar
Bhale Buddhi Ki Muthi Ho Tight
Ho Wrong Right Mein Chhidi Fight
Har Prashn Ke Uttar Par Hai
Tera Adhikar, Adhikar
Darwajo Ke Pichhe
Aur Bistar Ke Niche
Look Chhip Ke Rehta Hai
Ek Question Mark?
Har Dil Se Ugta Hai
Ambar Mein Dikhta Hai
Paani Mein Behta Hai
Ye Question Mark?
Mehnat Karenge, Matha Phodenge
Iski Akad Ko Lekin Todenge
Sone Deta Nahi Chidhata Hai
Isko Bhi Na Saste Mein Na Chhodenge
Are Bachke Jane Na Paye
QuestionMark?
Haan Bachke Jane Na Paye
Question Mark?
Haan Bachke Jane Na Paye
Question Mark?
Found Any Mistake in Lyrics?, Please Report In Contact Section with Correct Lyrics!