Seedha Makeover Lyrics – Kr$Na
Seedha Makeover Latest Rap song by Kr$Na
. This song is sung & written by Kr$Na while Mixed & Mastered by
Deep Kalsi
and video directed by Director Grim. This song is reply to
Emiway's song Seedha Takeover
.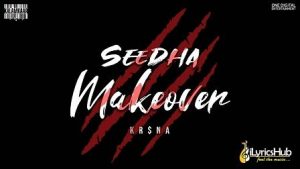 Song Details:
Song: Seedha Makeover
Singer: Kr$Na
Lyrics: Kr$Na
Mixed & Mastered:
Deep Kalsi
Label: Kalamkaar
Seedha Makeover Lyrics
Itni Bhi Kya Jaldi Thi Marne Ki
Tujhe Shaunk Hai Auron Ka Borrow Karne Ki
Fir Bhi Kar Paya Nahi Spit Kyunki
Shayad Aadat Hai Tujhe Swallow Karne Ki
Femiway Ek Saanp Ke Barabar
Mera Ek Gaana Tere 8 Ke Barabar
Height Teri Choti Aata Naakh Ke Barbar
Par Rap Tera Lage Mere Jhat Ke Barabar
Saale Aag Ke Barabar Mera Flow Har Bar
Karoon Barbad Tera Pura Sansaar
Du Seeda Lalkaar Jaise Me Hoon Sarkaar
Kholun Tere Chal Baal Fadoon Teri Salwar
Barbadi Kari Mene Har Baari
Teri Manmani Mujh Pe Na Chal Paari
Kamaya Tune Ghante Ni Banna Saala Ambani
Sehta Nahi Drama Me Me Na Koi Bhansali
Ye Hai Seedha Game Over
Karun Maar Ke Chapet Tera Make Over
Apne Fans Kho Diye Tune Fake Ho Kar
Me Lambi Paari Ka Khiladi
Chote Le Le Ja Ke Ek Over
Kholun Jubhi Khaata Toh
Khatam Karne Ka Waada
Meri Haar Ka Vichaar Tere Sapno Me
Gaana Lage Sada Koyi Na Nata
Apne Lyrics Se Toh Zyada
Aaj Kal Dhyan Deta Tu Kapdo Pe
Kafan Me Dafan Hai Tere Saare Armaan
Choroonga Me Zakham Mere Bhale Haath Baand
Suchai Na Hai Hazam Par
Meri Baton Me Wazan Choole Charan
Dharam Hai Rap Garam Hai Tapmaan
Chaar Foot Saat Tera Naap
Issi Liye Mere Level Pe
Kabhi Na Kar Paya Hai Tu Baat
Puri Karoon Aans Tere Kholun Saare Raaz
Tu Toh Ghaans Me Ek Saamp
Chote Me Hoon Baghbaan
Hip Hop Tune Sambhala?
Itna Jhoot Toh Me Expect Ni Karta
Kyunki Such Baat Ye Hai Emiway
Hip Hop Me Tujhe Koi Respect Ni Karta
Hasste Hai Tujhpe Bro
Kabhi Dekh Facebook Pe Bro
Aaj Kal Tony James Pakde Teri Pony Tail
Aur Bole Tujhe Fat Fat Jhookne Ko
Facts Bro
Ye Toh Saare Facts Bro
Me Hoon Gmail Tu Toh Lage Fax Bro
Chante Maar Ke Bulwaoon Tujhe Sorry
Jaise Tory Lanes Ne Bulwaya Tere Dost Dax Ko
Backstroke Maroon Main Beat Me Dive
Maroon Main Geet Me
Tujhe Maloom Tu Weak Hai
Sirf Gaano Pe Cheekhe
Hum Saaron Se Neehche
Sindhoor Kab Daalogi
Tum Balon Ke Beech Me?
Peeche Hatne Waala Ni Mujhe Dikhata Ujala Ni
Dilli Se Leke Dharavi Handle Tu Kar Para Ni
Lagaya Mene Naara Ni Fir Bhi Kabhi Hara Ni
Diss Ni Nikala Kyunki Tujh Se Likha Ja Ra Ni
Bolun Me Dubara Ni Ab Lagega Bhandara Bhi
Lage Tu Harami Aur Chora Hai Tune Chara Ni
Par Karoonga Me Waada Rap Pe Jub Aata
K Lagega Zyaada Jaise Beta Ye Balaji
Quality Bars You Just Want To Be Russ
You Want To Be Hard You Want To Be Em
You Want To Be A Star
You Just Wanna Be A Wanna Be I Wanna Be Apart
See I've Been Around Way Before
This Clown Ever Could Rap Set A Lyrical Trap
Critical Mass Then I Takeoff
Now He Tryna Reply With That Typical Crap
Smack His Ass Back Got His Umbilical
Wrapped Around A Chainsaw
Don't Ever Fucking Rap In English Again
Just Sit And Pretend While I
Pillage A Villages Of 10 With A Militant Pen
I Am The Illest Of Them
You Aint Making No Sense
I'm Dropping Lyrical Gems
Reply Dene Ka Tujhme Dum Ni
Vela Hai Akela Time Kam Ni
Paltu Nahi Me Hoon Jungli
Tu Bakri Jo Sher Ki Pehnke Gohoome Chamri
Kr Dollar Sign Malun Hai Na
Bajayenge Ye Thak Thak
Karenge Toh Fatke Bhi Khayenge
Found Any Mistake in Lyrics?, Please Report In Contact Section with Correct Lyrics!