Yeh Dooriyan Lyrics – Suryaveer | Aleena
Yeh Dooriyan Lyrics sung by Suryaveer featuring Aleena Rehan Khan. The music of New song is given by Piyush Sachdeva while Mix & Master by R Nitish Kumar.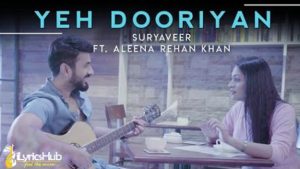 Yeh Dooriyan Lyrics
Kabhi Huya Ye Bhi
Khali Raho Pe Bhi
Tu Tha Mere Saath
Kabhi Tujhe Mill Ke
Lauta Mera Dil Ye
Khali Khali Haath
Ye Bhi Kabhi
Jaise Huya Abhi
Tujhko Sabhi Mein Paa Liya
Tera Mujhe Kar Hai Dooriyan
Satati Hai Dooriyan
Tarsaati Hai Dooriyan
Fanna Ho Se Bhi Dooriyan
Kaha Bhi Na Maine
Nahi Jeena Maine
Tu Jo Na Mila
Tujhe Bhoole Se Bhi
Bola Na Main
Ye Bhi Chau Fansla
Bas Fansla Rahe
Ban Ke Kasak Jo Kahe
Wo Aur Chahat Ye Jawa
Teri Meri Mitt Jaani
Hai Dooriyan
Begani Hai Dooriyan
Hat Jaani Hai Dooriyan
Fanna Ho Sabhi Dooriyan
Found Any Mistake in Lyrics?, Please Report In Contact Section with Correct Lyrics!