The Student Anthem Lyrics – Ashish Chanchlani
The Student Anthem Lyrics Sung by "Ashish Chanchlani" & "Shaikhspeare". The Music of the new Student Anthem song is given by "Raftaar" & "Instine" while Lyrics are penned down by Kunal Chhabhria & Anmol Sachar.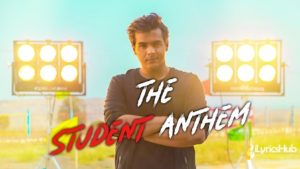 Song Details:
Song: The Student Anthem
Singers: Ashish Chanchlani, Shaikhspeare
Music:
Raftaar
, Instine
Lyrics : Kunal Chhabhria, Anmol Sachar
The Student Anthem Lyrics
Ye Rap Mere Payaare Students Ke Liye
Taiyaar…?
I Am Sad Engineering Karna Pad Raha Hai Yaar
Degree Milli..?
Job Mill…?
So Silly…!
Sunn
Ye Padhai Ye Likhai Mere Bas Ka Hi Nahi
Main Jab Dekhta Hu Mujhe Jamta Hi Nahi
Pass Hona Mera Banta Hi Nahi
Main Sab Padhta Kuch Jamta Hi Nahi Hai
Sir Aaye Bole Padhna Hi Nahi
It's Time For Assignment Darna Hi Nahi
Likh Likh Ke Hath Hai Sujai
Iss Raddi Ka Koyi Kaam Dhandha Hi Nahi Hai
Sachaai Yahi Ki Jobs Hi Nahi
Sachaai Yahi Bachchon Mein Nahi Unity
Topper Hai Ye Class Ke, Samjhe Khud Ko Baap
Professor Ki Ye Chate, Bole Karke Dikha Tu Bhi
Exam….!
Pass Aayi, Pass Aayi Fatt Ke Haath Mein Aayi
To Raat Bhar Marai
Tu…! Hoga Fail Mere Bhai
Jo Pura Saal Tune Books Ko Shaqal Na Dikhai
Engineer Bann, Mat Bann Kalakar
Sapne Toot Te Hota Atyachar
Bachpan Se Shaunq Mujhko Art Ka
Sadak Band, Aage Band Naaka Mere Shaunq Ka
Yaade Dilau Kya…?
Aye Aye, Yaad Dilau Kya…?
Chhote…!
Yaad Dilau Kya…?
Yaad Dilau…?
Sapna Ek Dekha Tha Passion Aazmauga
Jis Field Mein Talent Hai Waha Machauga
Neend Se Uthakar Papa Ne Bhagaya
Scholar Ke Sath Phir Padhne Lagaya
Inverse Integration….?
Naam Yaad Mein Aaya Kya….?
Yaad Na Hone Par Usne Das Baar Sikhaya Tha
Raat Bhar Mujhko Jagaya Tha
Chai Ka Cup Bhi Pilaya Tha
Net Se Dhudh Ke Padhaya Tha
Jo Bhi Padha Exam Mein Kuch Bhi Na Aaya Tha
Tab Mera, Tab Mera Naseeb Kadak Tha
Wo Ladka Alag Tha Use Aaya Mujhpe Kyu
Payaar Ghazab Ka Dikhaya Mujhe Pura Paper
Fir Sir Bola, Viva Mein Tujhko Bithata Hu
Jitna Rata Hai Woh Baahar Main Lata Hu
Tujhko Jo Yaad Nai Hoga Unhi
Sawalo Se Teri Lagata Hu
Entrance Exam Se Lakho Ki Naukri
Keh Ke Phasaya Main Kabhi Nahi Bhoolega
Maa Ki Kasam Khud Nikla Wo Ranker
Main Sachcha Last Bencher Tujh Jaiso Ki Kholega
Ek Shabd Bhi Nahi Bolega
Ye Ladka Kuch Bhi Nahi Bolega
Aur Fir Bhi Tu Ro Lega
Thoda Vi Nahi Ab Pura Hi Dholega
Thand Mein Bhi Khud Ko Jagana Pada
Freshers Party Thi Jaana Pada
Head & Shoulders Lagake, Dandruff Bhagake
Crush Pe Impression Jamana Pada
Padhne Mein Slow The…. Aye…!
Baithe Pichhe Ke Row Mein…. Aye…!
Maine Chits Banaya Tha…. Aye….!
Majboor Sa Hoke
Padhne Mein Slow Tha, Ratta Na Hota
Slow Hi Na Hota Toh, Load Hi Na Hota
Maa Baap Ne Meri Tuition Lagwai Hai
Kya Fayada Problem School Nahi Padhai Hai
Last Bench Se Uthakar Na Aage Bula
Aisa Karega To Dega Rula
Pehle Hi Roya Hu Raat Ko Na Soya Hu
Karma Se Dar Yu Na Mujhko Sata
Chits Bana…!, Chits Bana…!
Mia Khalifa Band Kar Zara Chits Bana
Susti Ki Baat Hi Nahi Thi
Maine Bola Pooorn Band Kar, Tu Tab Sada
Aaj Ka Sach Yahi Hai Ki Haal Filhaal
Toppers Ki Ijjat Badi Hai, Badi Hai…!
Tu 1st Rank Aa Raha Hai Chhote
Rinky Aur Pinky Toh Mujhse Patti Hai
Sanki Hai Meri Meri Meri Gang
Tabhi To CR Ki Jali Jali Jali Gand
Parents Ko Bulwaya Baja Di Meri Band
Bhaari Hai Talent, Bhaari Mera Plan
Samajh Mein Aaya Kya…?
Magaj Mein Aaya Kya….?
Yaad Mein Aaya Kya….?
Tu Mujhko Jhaadne Aaya Kya…?
Hillane Se Bante Bache Kya…?
Chillane Se Bante Sache Kya…?
Gussa Dikha Kar Bacho Ko Dara Rahi Hai
Unka Dar Samjhe Ya Jaane Kya…?
Notes Maangta Rahega Wo Fir Bhi Nahi Degi
Iss Baar Exam Teri Keh Ke Hi Legi
Baato Ka Matlab Badal Ke Batane Se
Socha Ki Answer Sheet Jaldi Bharegi
College Se Seedha Sab Tuition Pe
Ratt Lete Jaise Wo Tote Hai, Na
Seekha Maine Jab Kitabo Ko Khola
Ki Taare Zamin Par Hote Hai
Zamin Par Hote Hai, Taare Zamin Par Hote Hai
Samajh Mein Aa Gaya, Chhote…!
Mujhko Samajh Mein Aa Gaya….
Aye…! Chal Kuch Baat Aur Dhyan Se Sunna
Tu Mujh Pe Hansa Kyuki Percentage Meri Kam Hai
Abe Pubg Me Hara Ke Dikha
Agar Bum Mein Tere Dum Hai
Success Ke Piche Nahi, Excellence Ke Piche Bhag
Ye Kehta Main Nahi, Kehte Hai Aamir Sahab
Kids….!
Sachaai Hai Ye Tana Nahi, Dissss….
Samajh Mein Aaya Kya….?
Found Any Mistake in Lyrics?, Let Us Know In Comments or Report in Countact Us Section...