Tu Hai Kahan Lyrics – Uraan
Tu Hai Kahan Lyrics by Uraan is brand new Hindi song sung by Uraan and this latest song is featuring Usama Ali, Ahad Khan. Tu Hai Kahan song lyrics are penned down by Usama Ali, Ahad Khan while music is composed by Raffey Anwar and video has been also directed by Raffey Anwar.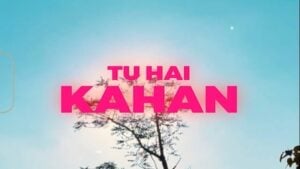 Tu Hai Kahan Song Details:
| | |
| --- | --- |
| Song: | Tu Hai Kahan |
| Singer: | Uraan |
| Lyrics: | Ahad Khan, Usama Ali |
| Music: | Raffey Anwar |
| Label: | Uraan |
Tu Hai Kahan Lyrics
Ki Jab Main Hadd Se Aage
Badh Gaya Tha Aashiqui Mein
Yaani Zindagi Ko Le Raha
Mazaak Hi Mein
Phir Mazak Hi Mein
Mil Gaya Sab Khaak Hi Mein
Chhu Kar Aaya Manzilein Toh
Tanha Tha Main Wapsi Mein
Jaise Phool Tode Honge
Tumne Jholi Bhar Ke
Main Woh Phool Jo Ke
Reh Gaya Tha Shakh Hi Mein
Jaise Khwaab Hi Main
Khwabgah Ankh Hi Mein
Pal Se Pal Mein Kya Hua Tum
Reh Gaye Bas Yaad Hi Mein
Ek Sawaal Machalta Hai
Mere Dil Mein Kabhi
Tujhe Main Bhool Jaaun
Ya Tujhe Main Yaad Karun
Tujhi Ko Soch Ke Likhta Hoon
Jo Bhi Likhta Hoon
Ab Likh Raha Hoon Toh
Phir Kyun Na Ek Sawaal Karun
Main Iss Sawaal Se Gham Ko
Badal Doon Khushiyon Mein
Par In Be-Jaan Si Khushiyon Se
Kya Kamaal Karun
Par Ab Sawaal Bhi Kamaal
Tu Sambhal Le Filhaal
Yeh Sawaal Bicha Jaal Kya
Main Chaal Chalun
Chaal Chal Tu Apni
Main Tujhe Pehchan Luga
Main Apni Mehfilon Mein
Sirf Tera Hi Naam Looga
Tujhe Pasand Hai Dheema Lehja
Aur Bas Khamoshiyan
Main Tere Khaatir Apni
Khud Ki Saansein Tham Luga
Kya Tere Saare Aansu
Mere Ho Sakte Hain
Aisa Hai Toh Tere Khatir
Hum Bhi Ro Sakte Hain
Mere Khatir Mere Rone Par
Ab Tum Bas Hans Dena
Ek Bar Tere Muskurahat Ke Pichhe
Hum Sab Kuchh Kho Skate Hain
Kya Meri Mohabbaton Ka
Koyi Hisaab Nahi Hai
Kyun Tere Aankhon Mein
Mere Liye Koyi Khwaab Nahi Hai
Tujhe Kya Hi Karun Ghamzada
Ab Jaane De
Ke Tere Paas Mere Pyar Ka
Jawaab Nahi Hai
Kitni Muddatein Hui Hai
Tumne Khat Kyu Nahi Bheja
Gaa Leta Hun Tere Liye
Mausiqi Nahi Hai Pesha
Aane Ki Khabar Hi Nahi Tere Ab
Ab Kya Mausamon Se Puchhun
Tere Aane La Andesha
Aankhon Mein Aansu Nahi Hai
Kahaan Hai Tu Kahaan Tu Nahi Hai
Dil Ko Yeh Ab Jaan'na Hi Nahi
Bas Tu Chale Aao
Tu Hai Kahan
Khwabon Ke Iss Shehar Mein
Mera Dil Tujhe Dhoondhta
Dhoondhta Arsa Hua
Tujhko Dekha Nahi
Tu Na Jaane Kahan Chhup Gaya
Chup Gaya
Aao Phir Se Hum Chale
Thaam Lo Yeh Hath
Kar Do Kamm Yeh Faasle
Na Pata Ho Manzilon Ka
Na Ho Raste
Tu Ho Main Hoon Baithe Dono
Phir Hum Taaron Ke Tale
Na Subah Ho Phir
Na Hi Din Dhale
Kuchh Na Keh Sake
Kuchh Na Sunn Sake
Baatein Saari Woh
Dil Mein Hi Rahe
Tum Ko Kya Pata Hai
Kya Ho Tum Mere Liye
Kehkashan Ho Tum
Kahaniyon Ki Pariyon Ki
Tarah Ho Tum
Mujhmein Aa Sake Na Koyi
Iss Tarah Ho Tum
Ho Yakeen Tum Mera
Ya Phir Ghumaan Ho Tum
Aashiyan Ho Tum
Main Bhatka Sa Musafir
Aur Makaan Ho Tum
Meri Manzilon Ka
Ek Hi Raasta Ho Tum
Dhoondhta Hai Dil Tujhe
Bata Kahan Ho Tum Hmm..
Ho Jahaan Kahin Bhi
Aao Paas Taaki
Aansu Mere Tham Sake
Yaad Aa Rahe Ho Tum
Mujhe Ab Har Lamhein
Aisi Zindagi Ka Kya
Jo Tum Zindagi Mein Hoke
Meri Zindagi Na Ban Sake
Sochta Rahun Ya
Bhool Jaaun Ab Tumhein
Tum Mil Hi Na Sakogi Toh
Fir Kaise Chahu Ab Tumhein
Tere Saare Khwaab
Pal Mein Jod Denge
Jisme Tu Hi Na Basega
Phir Woh Dil Hi Tod Denge
Chhod Denge Woh Shehar
Ke Jisme Tum Na Hoge
Toot Jayenge Makaan
Woh Saare Hasraton Ke
Guzre Pal Jo Saath Tere
Woh Pal Hai Bas Sukoon Ke
Mil Lo Ab Tum Iss Tarah
Ke Phir Nahi Miloge
Tu Hi Tha Saath Mein Mere
Kaise Main Jeeyuga Akele
Taare Ginn Ginn Ke
Ho Gayi Hai Subah
Tu Hai Kahan
Khwaabon Ke Iss Shehar Mein
Mera Dil Tujhe Dhoondhta
Dhoondhta
Arsa Hua Tujhko Dekha Nahi
Tu Na Jaane Kahan Chhup Gaya
Chhup Gaya
Written by: Ahad Khan, Usama Ali
Found Any Mistake in Lyrics?, Please Report In Contact Section with Correct Lyrics!